PADMA YOGA: MODERN MEDITATIONS 
Enjoy Padma's wonderful television series of yoga and meditation.
Padma and ONETV produced 143 television episodes of the popular Padma Yoga show. Padma Yoga episodes have aired three times daily across Canada since 2002, and continue to be one of the most popular yoga shows on television. In each show, Padma shares her decades of experience of practice, study and teaching yoga and meditation. The names of the various seasons produced are Living Yoga with Padma, the Elemental Series, Modern Meditations and Blissful Living.
The season Modern Meditations includes 26 professionally filmed episodes and is available in a 5-DVD box set. Each DVD has 5 X 23 minute-episodes, over 10 hours, of yoga, meditations and Sanskrit wisdom that Padma studied in the Himalayas. 5-DVD Box-Set on sale now for just $38 CAD + $10 shipping (Full price was $69 + Shipping)
---
"Yours is just the best. Your calm voice and your loving presence is remarkable." Kathy
"I was introduced to Yoga by your show and was a faithful participant for a year or more. It changed my life and my feeling of well-being. I have never felt more energized or revitalized." Lin W.
---
Each day in Modern Meditations Padma focuses on one of life's challenge and offers classical hatha yoga poses and sequences, healing breathing techniques, meditation practices and Padma's signature "Sanskrit Word of the Day," that all help to alleviate the struggle. Padma Yoga expertly guides you towards full health, freedom and love.
The topic in each of the episodes addresses a general challenge that people encounter in life, for example, frustration or life changes, and then identifies a specific example of each challenge, for example, parenting or loss of a job. Padma carefully selects specific yoga, breath exercises and meditations that directly remedy or help alleviate these troubles and support us in living a strong, healthy life with clarity and joy.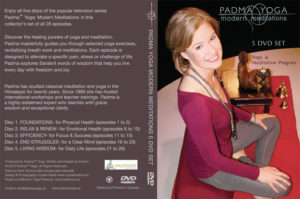 DVD #1 FOUNDATIONS
Episodes 1-5 address PHYSICAL CHALLENGES:
Episode 1. Overcoming Chronic Pain
Episode 2. Relieving Joint Pain
Episode 3. Improving Digestion
Episode 4. Losing Weight
Episode 5. Maintaining Balance
DVD #2 RELAX AND RENEW
Episodes 6-10 address EMOTIONAL CHALLENGES:
Episode 6. Freedom from Anxiety
Episode 7. Decreasing Hypertension
Episode 8. Overcoming Eating Disorders
Episode 9. Curing Anger
Episode 10. Overcoming Depression
DVD #3 EFFICIENCY
Episodes 11-15 address MENTAL FOCUS CHALLENGES:
Episode 11. Focusing a Scattered Mind
Episode 12. Adapting to Changes
Episode 13. Attaining a Goal
Episode 14. Stopping Incessant Worry
Episode 15. Performing Your Best
DVD #4 END STRUGGLES
Episodes 16-20 address MENTAL ATTITUDES CHALLENGES:
Episode 16. Living with Awareness
Episode 17. Not Feeling Overwhelmed
Episode 18. Facing Changes
Episode 19. Stopping Negative Self-Talk
Episode 20. Enjoying Satisfaction
DVD #5 LIVING WISDOM
Episodes 21-26 address DAILY LIVING CHALLENGES:
Episode 21. Changing a Sedentary Lifestyle
Episode 22. Achieving Maximum Results
Episode 23. Having Patience
Episode 24. Building Self-Esteem
Episode 25. Staying Centered
Episode 26. Living with Freedom
---
"I have finally found what I was looking for. Gentle yoga poses, no pressure to be in a certain rhythm or specific routine of poses  and plenty of meditation." Margaret 
---
Each episode also features a SANSKRIT WORD OF THE DAY:
Episode 1. SANSKRIT- AATH, Now a Blessing
Episode 2. SANSKRIT- YOG, Spiritual Discipline
Episode 3. SANSKRIT- CHITTA, The Mind
Episode 4. SANSKRIT- VRITTI, Thoughts
Episode 5. SANSKRIT-VIRYA, Spiritual Power
Episode 6. SANSKRIT- SHAUCH, Purification
Episode 7. SANSKRIT- DRASHTA, The Witness Seer
Episode 8. SANSKRIT- SWAROOP, Your True Self
Episode 9. SANSKRIT- AWASTHA, Being Established
Episode 10. SANSKRIT- NIRODHA, De-Identification
Episode 11. SANSKRIT-  TAPAS, Efforts
Episode 12. SANSKRIT- SWADHYAY, Self-Study
Episode 13. SANSKRIT- DHARNAA, Concentration
Episode 14. SANSKRIT- SANTOSH, Contentment
Episode 15. SANSKRIT- PRANIDHAAN, Respectful Surrender
Episode 16. SANSKRIT- TANTRA, Union with Spirit
Episode 17. SANSKRIT- MANAS, Sense Perceptions
Episode 18. SANSKRIT- AHANKAR, Ego-Identification
Episode 19. SANSKRIT- AKLISHT, Helpful for Enlightenment
Episode 20. SANSKRIT- KLAYSH, Obstacles to Freedom
Episode 21. SANSKRIT- ASTAYA, Non-Stealing
Episode 22. SANSKRIT- APARIGRAHA, Non-Grasping
Episode 23. SANSKRIT- SMRITI, Memories
Episode 24. SANSKRIT- KALPANA, Imagination
Episode 25. SANSKRIT- SANYAM, Connecting with Perfection
Episode 26. SANSKRIT- VIVAYK, Discernment
---
"Thank you so much for your Breathing Meditation. I use it every day! I have long-term chronic pain from curvature of the spine. With your breathing meditation I'm able to cope with it better than some of the medication I take! Its nice to drop-out a little bit during the day from pain. Also, to stop my thinking just for a little while makes me feel like a true human being. Your voice and devotion is a gift to this sometimes chaotic world. Again, Thank you so much." David C., Middletown, DE USA

"I just want to thank you for the terrific shows you have. They are the best of yoga for me. even when I don't participate but just listen they relax me and ground me. I find you very inspirational and easy to follow. you have been a key element in my overcoming of depression this past winter especially. Keep up your excellent work! You are needed!" Katherine
---
For show times in your region across Canada, please go to the ONETV.ca website.
Costumes are supplied by Movement Global. These comfortable clothes are locally designed and produced in B.C.
Props are supplied by Halfmoon Yoga Products. Get your own mats, bolsters, blocks, meditation cushions, yoga clothes.
Let us know how you like the series! Email here to give us your feedback.
The series is produced, written and hosted by Padma. 
---
SHOW CREDITS
Host & Writer
PADMA
Yoginis
PAULINA KEE
TANYA PODLOZNIUK
MEGHAN GOODMAN
Consulting Producer, Joytv
JONATHAN ROTH
Director
KEN STEWART
Technical Director
DARREN HULL
Production Assistant
PETA FYFE
Studio Cameras
RON PENCHALAIYA
CLAYTON LITTLE
MIKE MCCULLOUGH
TOM SAUNDERS
RAY WATERS
Audio 
JEFF TSO
Studio Graphics
STEVE WILSON
Make-Up Artist
MARZENA SKOWRONSKI
Graphic Design
SEQUENCE
Set Props Courtesy
HALFMOON YOGA PRODUCTS
Wardrobe provided by
MOVEMENT GLOBAL
Theme Music
PADMA
Executive Producer, ONE
JOAN JENKINSON
THIS SERIES IS PRODUCED IN ASSOCIATION WITH ONE: BODY, MIND & SPIRIT CHANNEL