"Padma Meditation awakens your awareness and brightens your life."
What is Padma Meditation?
Padma Meditation is a school of meditation and self-awareness based in Classical Yogic Meditation, in the Advait Vedant lineage, and developed by Padma, Marla Stewart. For millennia, this meditation lineage has been passed from teacher to student, and this treasure of knowledge was directly transmitted to Padma by her teacher in the Himalayas of India for over 30 years.
In 2000, Padma returned to Canada and established Padma Meditation. She designed the courses based in her direct awareness, independent from religious affiliation. Padma expertly selects the time-proven practices that most effectively help her students be joyful, free and clear. Through classes and courses they gain knowledge and skills to live with happiness, health, and confidence.
What are the Practices?
Meditation
Meditation is quiet, still, inner watching and self-discovery.
Self-Study
Self Study is inquiring, listening, studying Sanskrit sutras, dialoguing and observing the mind and ego.
Skills
Skills include concentration practices, mantra chanting and breath exercises, and watchfulness techniques.
Receive wisdom and practice tips, and hear about upcoming events and courses.
What is the philosophy?
Padma Meditation will unfold the peace and power that is within you.
You can discover inner power and peace, and then live confidently with happiness and clarity, making aware decisions. Padma believes that informed and balanced individuals make more ethical and enlightened choices that result in personal, environmental and social wellness and sustainability.
Advait Vedant and Classical Yoga Philosophy state that you are already free and pure, and it is the attachments to old habits of the mind that create suffering, greed, and fear.
Padma Meditation teaches that once you learn this, practice the skills and meditate, then your awareness expands and you become fearless, loving, and free.
HOW IS PADMA MEDITATION OFFERED?
For the last 20 years Padma has been guiding people from all walks of life towards more happiness. Padma Meditation offers specialized programs to individuals as well as corporate executives and groups. We welcome work with athletes, executives and professional groups. Padma Meditation offers high-quality, professional meditation teachings for all, especially who are at key transitional times of life.
Padma Meditation offers Online Meditation Courses and a comprehensive Online Meditation Teacher Training Program, plus Group and Private Live Online Classes, plus Retreats and Workshops.
Padma created and hosted 143 episodes of the PADMA YOGA television series, aired across Canada daily since 2003 on the ONE: Body, Mind, Spirit, Love Channel. 
See the Padma Meditation You Tube channel as well.
Padma shares her wisdom and invites you to join her in a daily practice of health and bliss.
What will you gain?
Through Padma Meditation you'll find freedom, clarity, inspiration and compassionate insight. You'll increase your inner strength, confidence and joy and decrease anxiety, becoming free from suffering.
By practising simple, effective meditation, you naturally re-connect with your best self. Padma Meditation is designed for inner exploration, and for coping with everyday stress.
You gain higher energy, focus and efficiency. Studies have shown that techniques such as those employed by Padma Meditation enhance everyday wellbeing.  Meditation stabilizes your nerves and clears a cluttered mind.
"Padma Meditation reminds me I am clear, infinite sky! I love her workshops!
Sarah McLachlan, Musician
What are our goals?
Padma wants everyone to know that ongoing suffering is not necessary, and you can live with wisdom and love.
Padma has also always been passionate about respecting and preserving all living beings on Earth, and at university, was motivated to study Biology, idealistically in order to save the wolves and the whales of British Columbia. She came to see that the root cause of animal extinction is human greed and selfishness. When traveling in India she discovered there a wisdom tradition of exactly this: how to end human ignorance and greed.
Through meditation, we aim to educate individuals to become more self-aware and thereby socially conscious.
We offer the first high-quality, secular Meditation Teacher Training Certification in Canada with the goal to increase the number of reliable and skilled meditation teachers available.
Padma Meditation programs are offered as online courses in order to best reach out to people across the world, including disenfranchised individuals.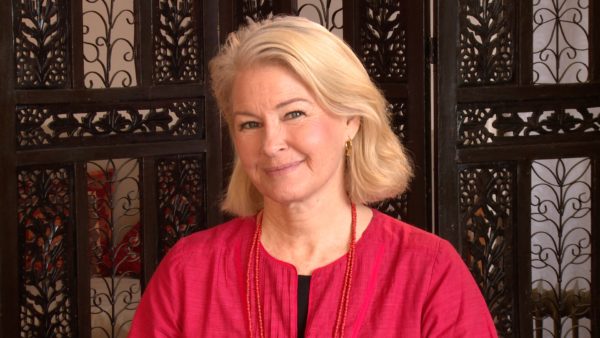 WHO RUNS PADMA MEDITATION?
Marla Stewart, also known as Padma, owns and operates Padma Meditation. Padma earned a B.Sc. in Biology in Montreal, Canada, then travelled to India to practise meditation. For more than 30 years she studied in the Himalayas, with intensive, direct tutelage of a meditation Guru. She has taught meditation since 2000.
"I have been on weekend meditation retreats with Padma for the past two years, and every year, I am blown away. My meditation practice is renewed, I've gained clarity and insight and I'm always glad I made the time to learn from her."
What are the skills you'll practice?
Meditation: quiet, still, inner watching and self-knowing.
Self-Study: inquiring, listening, dialoguing and observing the mind and ego.
Insightful Discussions
Concentration Skills
Breathing Practices
Senses Scans
Mantra Repetition
Study of Sanskrit philosophy texts
Eastern Psychology of the mind and ego
Philosophy exploring Truth
Healthy Lifestyle Habits
Bliss, Joy and Love!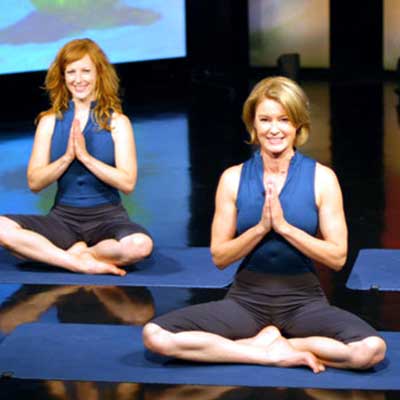 By practising simple, effective meditation , you naturally re-connect with your best self. Padma Meditation is designed for inner exploration, and also simply for coping with everyday stress!
You get higher energy, sharper awareness, focus and efficiency, health and peace. Studies have shown that techniques such as those employed by Padma Meditation enhance everyday wellbeing.  Meditation stabilizes your nerves and clears your cluttered mind.
Wherever you are in your meditation practice, you'll find something unique and effective, from introductory, secular, fun workshops to more in-depth study of Sanskrit scriptures.
Explore courses for complete beginners ready to start on this exciting journey, and for experienced practitioners ready to learn how to share their love of meditation with others.
"I found a huge change in myself. I'm happier, calmer, more content and just go with the flow. My mind is quieter, it feels foreign but amazing because it's free Being able to allow thoughts come and go instead of analyzing and then creating worry is amazing."
"The course does so much, there is such great peace in stillness. This course made me take time for just me and I am forever grateful."
"The meditations and learning helped me a lot with my anxiety. This course is life changing thank you."
The mission of Padma Meditation is to offer education and skills for finding personal freedom, and to support living in peace, health and happiness.